What is an NFT domain and what can be done with it?
What is an NFT domain? NFT domains are catching on and are now beginning to influence the value of domain names.
What is an NFT?
Simply put, an NFT or Non-Fungible Token is a unique digital asset. They represent real-life objects such as art, music, videos, and game objects. However, they are bought and sold online, and are often purchased using cryptocurrencies. Most NFTs are part of the Ethereum blockchain, an open source blockchain.
An NFT cannot be replaced with something else, because they have distinctive properties. An example of a non-expendable object is Leonardo da Vinci's painting The Mona Lisa. If you were to exchange it for another paint, you would have something completely different. There is nothing that compares and can be equally redeemed for The Mona Lisa.
NFTs should not be confused with a fungible token, like the Bitcoin cryptocurrency for example. Bitcoin is a digital currency, with no central bank or single administrator. It can be sent from one user to another through the bitcoin network without the need for an intermediary. Also, there is no difference between two Bitcoins, they are like two United States dollar bills. Interchangeable, identical and for the same value.
What is an NFT domain?
NFT domains are domains hosted on a public blockchain and give users full ownership of their stored data.
The main benefits of owning an NFT domain are simplifying crypto transactions by replacing wallet addresses with the domain name and easily creating and hosting websites on web3.
Advantages of an NFT domain, an example
One of the main advantages of an NFT domain I will give in the following example:
Mark wants to send you some Bitcoin, and he asks "hey what is your wallet to send you some BTC from my Coinbase Wallet", and you say "my BTC wallet address is satochinaka.nft", and then Mark sends the BTC to satochinaka.nft. Then the sent BTC will arrive to your Bitcoin wallet
Then, Robert tells you "hey, what is your TRON wallet to send you some TRX from my Trust Wallet", so you tell him to send them to satochinaka.nft, and after a while the TRX will arrive through the TRON network
You can configure your NFT domain name for as many cryptocurrencies and wallets as you need, and that is the main advantage.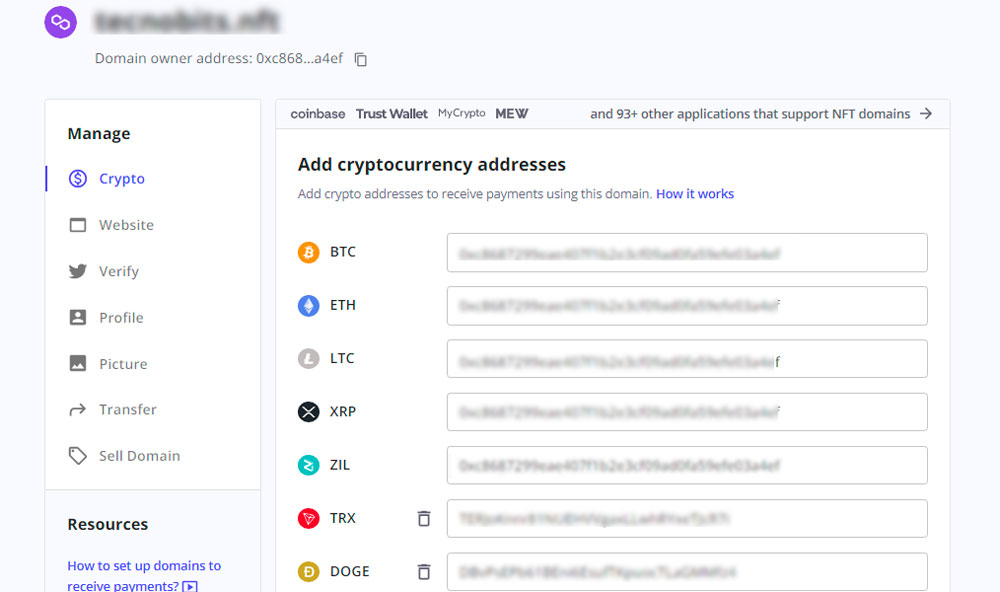 You can configure your domain name for various wallets and crypto assets. This way you won't have to memorize or write down so many wallet addresses.
NFT domains do not need to be renewed
Another great advantage of an NFT domain is that you do not need to renew it annually; it's practically an asset that you can mint.
How to buy an NFT domain?
Buying NFT domain is easy, you just need to know where to buy NFT domains. I have personally started buying my NFT domains at Unstoppable Domains, their interface is simple and easy to use.
What can be done with an NFT domain name?
With an NFT domain name you can:
Send and receive crypto with an easy-to-read and easy-to-remember wallet address
Build your decentralized website
Transfer your domain
Login to APPs
In the future… much more
How to start
At unstoppabledomains buy your NFT domain with credit card, PayPal or cryptocurrencies
Configure Metamask
Connect your wallet, the video below shows how it's done
Mint your domain, the following video shows how it's done
Add your wallet addresses:
Wallets and applications integrated with Unstoppable Domains
The following are some of the wallets and apps integrated with Unstoppable domains:
Coinbase Wallet
Rainbow Wallet
Trust Wallet
Venly
Brave Wallet
Huobi Wallet
Okcoin
Pillar Wallet
Cobo Wallet
Guarda
Atomic Wallet
Coinomi
Burner Wallet
Math Wallet
Block Monitor
Zillet
Blockscan
Ambo
Alpha Wallet
Lobstr Wallet
Blockchain.com